Casagastone
The Italian B&B in Ireland
Welcome to Casagastone. We are Patrizia and Attilio and in 2016 we decided to move to Ireland with our 3 cats: Gastone, Ciccia (cheecha) and Mina.
This is where we decided to open a b&b and this is where Casagastone was going to be born.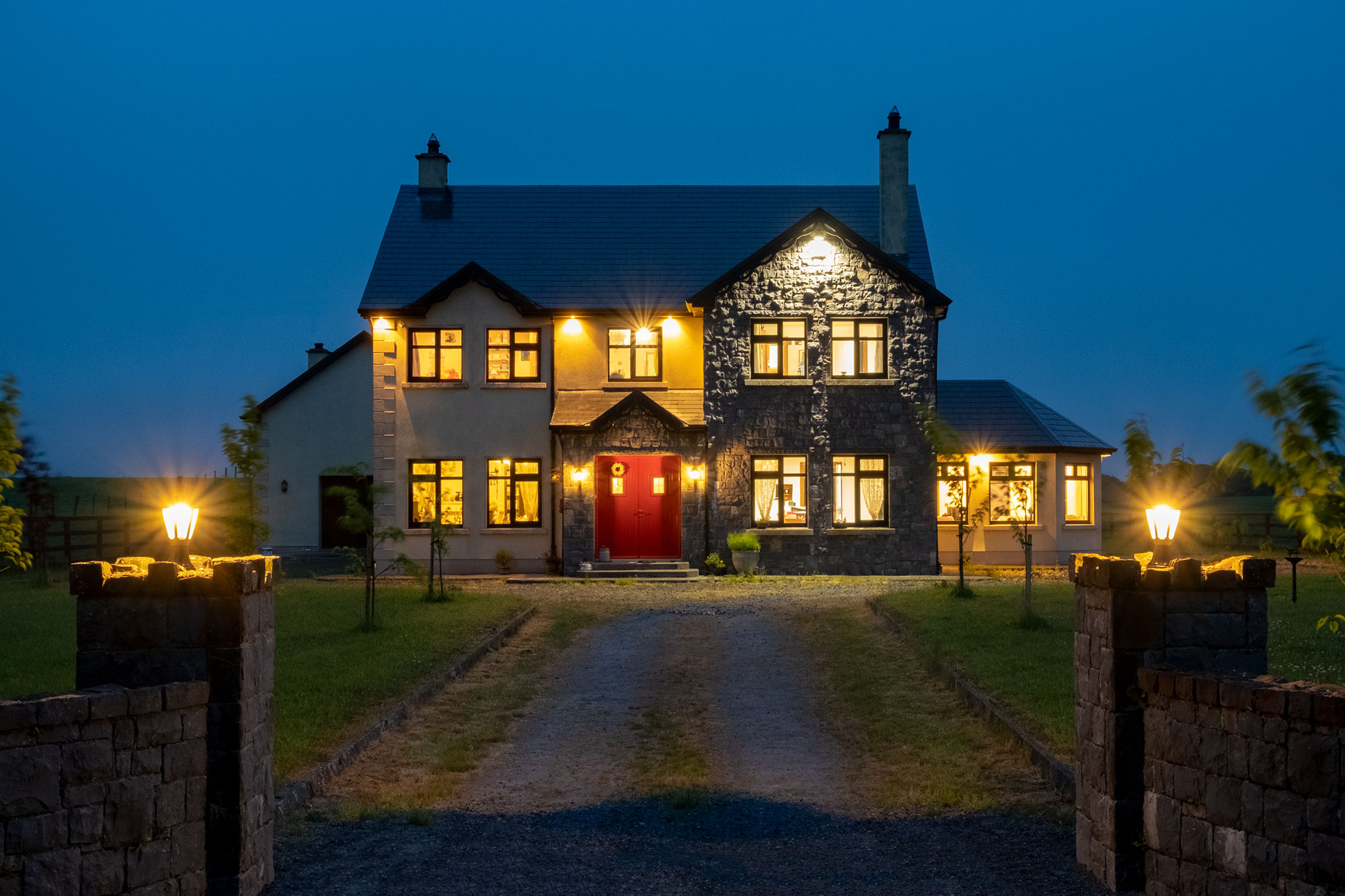 Our Location
We are in Moylough, Loughill to be exact, about 38 km from Galway which is the third city in Ireland, at about 208 km from Dublin
As well as the b&b we offer personalised tours to allow you to visit Galway and the moltitude of fantastic sites that this beautiful Country has to offer even if you are travelling without your own transport. You can also avail of our personal chaffeur service to and from Shannon, Knock and even Dublin airport.
Casagastone B&B
The location
What our guests think
Our guests
Attilio e Patrizia... Siete due persone deliziose, sempre attenti ai bisogni dei vostri ospiti, e la vostra casa sembra uscita da un libro di fiabe! Grazie di tutto.
Maria e Paolo
Fresca sottile pioggia spezzata dal vento ovunque, senza tempo immaginabile, si spegne nel sole improvviso e caldo, dentro e fuori nuvoloni bianchi e scuri. Opposti uniti fra terra e cielo, fra cielo e mare, acque quiete e prati verdi, strade e fiumi, silenzi e gente. Una sole voce governa il tutto, il vento, ovunque presente guida il susseguirsi di questi abbracci. il Tao della vita. Grazie per i vostri semplici sorrisi e i piccoli preziosi gesti cordiali.
Cesare e Cinzia
Essere lontani dalla propria casa e nello stesso tempo sentirsi a casa! Questo é accaduto a Casagastone grazie all'accoglienza, alla disponibilitá, alla simpatia e alla cortesia di Patrizia e Attilio. Ci siamo trovati in un contesto veramente incantevole! Questo é un valore aggiunto alle bellezze dell'Irlanda. Grazie di cuore!
Rossana e Angelo
Siamo stati in questo b&b ed abbiamo trovato un clima molto familiare: Attilio e Patrizia sono molto disponibili ed attenti alla ns esigenze. Il luogo è a dir poco meraviglioso, immerso nella natura, dai colori incantevoli da fiaba.....esperienza sicuramente da rifare!!! Lo consigliamo al 100%
Marcello e Letizia
Siamo stati benissimo! Grazie di tutto. Speriamo di tornare a trovarvi con i nostri amici..
Laura e Carlo - Roma
Un posto magico! Mai avrei immaginato di trovare un b&b cosi bello, pulito ed accogliente. Ottima la colazione e l'atmosfera è avvolgente! Se ci entri non vuoi più andare via!
Veronica
Vacanza indimenticabile!! Abbiamo trovato accoglienza professionalità gentilezza...per non parlare della colazione!! Atmosfera fiabesca...mi è sembrato di vivere per qualche giorno fuori dalla realtà in un ambiente tranquillo e molto particolare. Complimenti a Patrizia e Attilio...ci rivedremo!! Lo consiglio a chiunque voglia ricaricare le pile!!
Cristina e Roby
Splendido il posto, rilassante e rigenerante. Bellissimo il b&b ed ottima la colazione. Molto disponibile i proprietari. Lo consiglio a chi si trova in zona!
Andrea
Io e la mia famiglia abbiamo trascorso alcuni giorni magici a Casa Gastone, l'accoglienza e la gentilezza di Patrizia e Attilio sono il valore aggiunto di un luogo già di per sé incantevole. Le camere, come tutto il resto della casa, sono curate in ogni dettaglio e trasmettono calore e intimità. La colazione - sia irlandese che italiana- è squisita.
La posizione del B&B è ottima per raggiungere le principali località turistiche.
Un luogo, Casa Gastone, che rimane nel cuore e che spinge a ritornare in Irlanda!
Francesco